For Your Initial Investment, You'll receive…
Comprehensive 14-Day Initial Training
Every franchisee receives 14 days of initial operations and leak detection training in beautiful Ventura, California. There, your training will cover every aspect of the Pinpoint Leak Detection Franchising System. Our expert instructors will show you how to effectively market your business, operate the PinPoint point-of-sale system, coordinate scheduling, manage the administrative and financial aspects of your business and oversee your employees. Your management team and key service professionals will be trained by Pinpoint experts and key strategic partners in the knowledge and practical application of our proprietary systems and techniques to enhance their ability to provide the absolute best results for your clientele. You'll gain real world experience as our trainers help you make final preparations for your successful grand opening!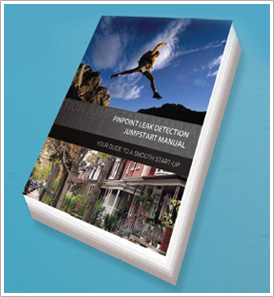 The Pinpoint Jumpstart Program
Pinpoint's one-of-a-kind Jumpstart Program is a primary reason that Pinpoint franchisees get off to a fast start. Jumpstart is a pre-training program that holds your hand through every detail of your new business's start-up. From mundane tasks such as applying for a local business license and obtaining your Federal Tax ID number to more expansive assignments such as initial employee hiring and the development of your grand opening target marketing campaign, Jumpstart ensures that you maximize your time before training. But most importantly, it helps ensure that once you return from training, you'll be ready to launch your new business!
Complete Equipment and Supply Package
We know exactly what you need in Pinpoint Leak Detection location and exactly where to get it. We have done the research and we know what works. The result is a complete, recommended equipment package that supports the operations of your Pinpoint location without inefficiency or excess. Obtaining equipment and supplies to get your location started will be straightforward and simple. We have developed a network of vendors and suppliers, to whom you will have direct access to the preferred pricing plans.
A Proven System
When you join the Pinpoint Leak Detection franchise system, you're joining a system that has been constantly refined and improved and you're gaining access to a staff of experts with years of collective experience in the Leak Detection Industry.
You'll also receive…
Start-up Forms
Support Hotline
Marketing Materials
Grand Opening Manual
Operations Manual
Jumpstart Manual